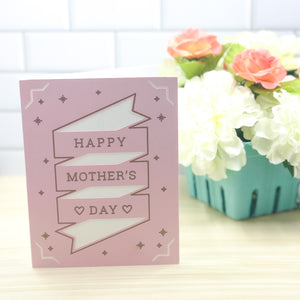 Share Mother's Day wishes with our handmade card.
- Comes with 1 handmade card and 1 envelope
- Colors are light pink and white with bronze metallic accents
- Card is blank inside
- Card is approximately 4 inches by 6 inches
- This is a physical card that will be sent directly to your recipient. It will have the Honeycomb Paper Goods studio as the return address. If you would like your recipient to know that the card was from you, make sure you include your name in the message!
- Please double check that your message is typed exactly as you would like it and that the address is correct.
- If you would like to receive an image of your card when it is sent, please provide your email address.
- Please note: Because this item is handmade, it may vary slightly from this image.